Microfinance: Amazing Grace Project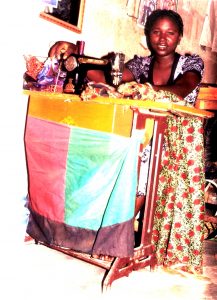 This is another area we use to uplift these poor families. Some studies have shown that microfinance can play a big role in the battle against poverty. It helps poor households meet basic needs and improve household economic welfare. More importantly microfinance helps to empower women, thus improving household well being.
Due to the poverty level of these families, it is difficult for them to get any kind of loan or help from big financial institutions. Despite all these hindrances, African women in rural areas are managers of their household economics. They go from one village market to another, sometimes covering a dozen miles on front each day while balancing a baby on their backs and merchandise on their head. They work very hard to earn their living.
In the hands of a conscientious trader in a typical African village, like a woman in the picture above, a loan of $100.00 could help her and her family break out of the cycle of poverty. Over a period of time she could become an employer and have her children's education assured. Our Amazing Grace Program provides small loans to women motivated to lift their families out of poverty. In Dec. of 2016, the Foundation selected the first ten families that are participating in this program
The participants meet once a month to discuss their progress and encourage each other. They work together and try to support one another. They have become role models for other women in the community.